Twobirds is the co-founder of the Anam Cara Retreat Centre where she lives and works full time as a shamanic practitioner and teacher of cross-cultural and Toltec Shamanism. All the workshops are held at Anam Cara, unless otherwise stated.
Anam Cara is a Gaelic word meaning "soul friend". It symbolises a spiritual friendship that is not affected by time, distance, or separation. In the old Celtic tradition, the Anam Cara was someone you could share your innermost self, mind and heart. This soul friendship was an act of recognition and belonging helping us return to the heart of our spirit. We have chosen this name as a symbol for the "circle of belonging" – that inner friendship which embraces nature, divinity, spirit and human world as one.
Location
Anam Cara lies 600 feet above sea level and overlooks the city of Inverness, in the Highlands of Scotland, with stunning southerly views towards the Monadhliath Mountains. We are only three miles from Inverness city centre yet surrounded by farm and woodland. The scope for walking is endless. The centre is set in seven acres of land which offers a delightful network of paths through a rich and varied landscape. There is also an extensive wooded area and a sheltered fruit and vegetable garden embodying permaculture principles.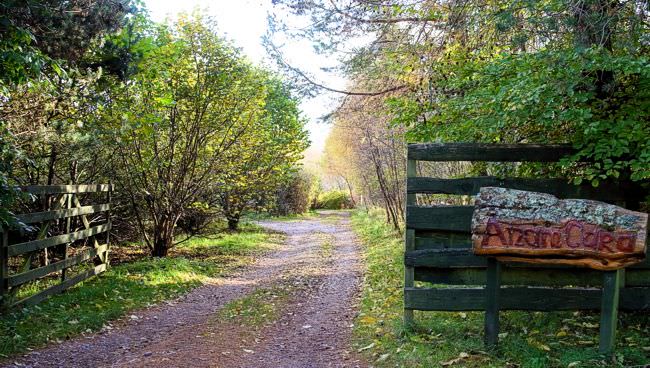 Living arrangements
Workshops and retreats are fully residential with nutritious, wholesome, vegetarian meals provided; with special diets catered for on request. We use organic produce as availability allows – an ever-growing proportion of which is produced in our own garden. All meals are prepared by our experienced cooks, with participants assisting in the 'Helping Hands' wash up rota.
Price structure
We endeavour to keep the cost of our courses as low as possible, which we hope you will find reflected in our prices. Please note course fees are inclusive of all meals and accommodation.
Accommodation
The guest living space comprises of three large wooden clad caravans, which are literally set into the hillside each with marvelous southerly views. The caravans accommodate up to five people in three single and one twin room all with electric heating. A refurbished toilet / shower room adjoins the caravans. The turf roof 'pavilion' offers comfortable communal space for both relaxation and eating. All food is prepared in our galley kitchen adjacent to the pavilion.
Accommodation comprises of three caravans which have been significantly modified. Two of the caravans have been set into the hillside and bordered with a live 'fence' of willow…two very grounded structures. All three buildings have been insulated and externally clad with timber and can accommodate five people mostly in single rooms. Electric heating in all rooms makes for a cosy and very intimate atmosphere. Refurbishment and enlargement of the toilet and shower room completes the facility.
Additional accommodation comes in the form of a wooden cabin sleeping another five over three rooms, also with shower and toilet facilities.

Workshop venue
The main venue affectionately known as the 'Tufty' is a purpose built octagon, constructed from locally grown timber with large patio windows looking south over Inverness and the mountains beyond. The log burning stove, oak floor, and turf roof creates a unique and lovely space. The building also has a kitchen and library for general use. There is a range of additional buildings including a secluded shrine room for meditation and prayer, plus a 'barrel' therapy room.
The Earthlodge
Our Earthlodge awaits discovery in an isolated corner of the 'raspberry wood'. This venue, which is commonly used for shamanic ceremony and ritual, has been dug into the hill side, built with stone walls, forest poles and turf roof – a very quiet and atmospheric place.
Built in 2008, the Earthlodge might best be described as a cave in the hillside. The structure is supported by a thick stone 'dyke' wall which was built in an excavated hole. The turf roof which is level with the lie of the land, renders the building near invisible.
Forest pole roof and wooden floor give this building an exceptional atmosphere and is used for both meditation and more particularly shamanic ritual and ceremonies.
The Earthlodge is the most recent construction at Anam Cara, which was built with the help of many volunteers. Building started in the April of 2008 and with a team of 15 hands the building quickly took shape as 60 tonnes of stone were placed on top of each other. The roof is a reciprocal based system using locally cut timber from Muir of Ord and then covered with straw, heather and finally turf to allow it to disappear. With one metre thick stone walls, turf roof and wood floor, this 'cave in the hillside' is practically invisible. The Earthlodge is heated with an appropriate wood burning device called a Rocket Mass Heater.

Barrel Treatment Room
The barrel formally used to store 'whiskey mash' is now a place of healing, where a range of therapies are undertaken.
The Shrine Room
The shrine room is one of Anam Cara's oldest buildings. Nestled in a secluded spot it is a tranquil enclosed space that is frequently used and is always available for meditation practice.