Course Leader
Twobirds Cunningham was born in America but spent her formative years in Germany. She left Europe after a successful career in acrobatics and moved to South Africa where she lived for nine years, establishing a shelter for homeless street children in Johannesburg and latterly walking 'barefoot in the South African bush'. This minimalist lifestyle living in close communication with indigenous African tribes laid the foundations for her passion for the shamanic path. She came to Scotland in the summer 1996 and joined the Findhorn Community where she lived for two years.
During this time, she found the language that allowed her to begin to put her African experiences into words and help define her innate spiritual sensitivity. She has subsequently undertaken intensive formal training in cross cultural Shamanism, Shamanic Healing, Toltec Shamanism, Plant Spirit Medicine, and Native American Spirituality. These teachings have been augmented with the emersion in indigenous shamanic cultures in Mexico, South Africa, the Kalahari in Botswana, North Vietnam, and the Ecuadorian rain forest.
This cross fertilisation of experiences has enriched and expanded her personal understanding, which, with years of private study, has culminated in an extensive range of highly experiential training courses. It is her keen desire to share her insights with like-minded souls and nurture the ever-expanding community of shamanic practitioners.
Twobirds and her husband Alastair co-founded the Anam Cara Retreat Centre in Inverness, Scotland where they both live and work since its establishment in 2003.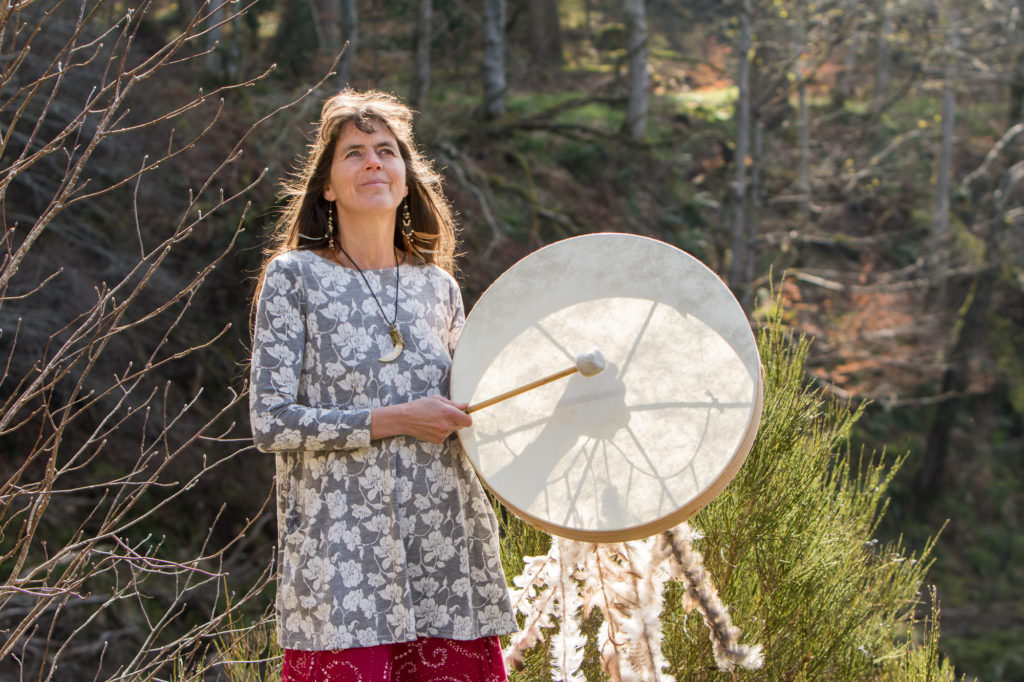 The Team
Course Assistance
The following are qualified shamanic practitioners who support the training programmes:
Starkeeper Morton
Starkeeper Morton lives in North-East Scotland where she is the founding director of The Haven in Stonehaven, a not-for-profit well-being space and community larder. She is inspired by shamanic teachings to reinvigorate ancient ways back into modern community life. Shamanism has called her to work in primary schools, prisons, and other organisations. She enjoys holding a monthly Shamanic Healing Circles, workshops, and retreats.
John McCarthy
After years of searching and learning about a variety of healing arts and spiritual practices, John finally found a fulfilling way of being in the world through his dedication to Shamanism. He is a Shamanic Practitioner trained in core shamanism and in conducting Sweatlodge Ceremonies. Based in London, John moulds his shamanic practice around life in a modern urban city. 
Joany McGuire
Joany enjoys a strong connection with nature living simply in the wild North-West Highlands holding communion with Nature Beings in this most rugged of environments. Joany has embarked on a series of shamanic trainings over the last eight years. She hosts retreats in the Highlands with particular interest in sacred circles for women, helping to nurture a safe and insightful environment for authentic shamanic practise and understanding.
Bjólan "Whale Father" Holyoak
Whale Father embarked on his spiritual journey in 2011 and has since travelled the globe in pursuit of wisdom. As a Trustee for Heart of the Wild and an active shamanic practitioner, he enjoys blending wilderness survival skills with ancient healing arts to provide innovative solutions to modern-day challenges. His unwavering commitment to continuous learning and empowerment underscores his active role in perpetuating holistic wellness worldwide.
Dianne Murray
Dianne is based in central Scotland and works as a full-time therapist and facilitator offering workshops and retreats that include drumming circles, tribal dance events and Sweatlodge Ceremonies. Her heart lies in the integration of nature connection as a therapist and in her work in community building. Dianne holds a science doctorate and delivers her work with a strong sense of groundedness, balance, and integrity.
Hosting
Alastair Cunningham
Alastair maintains an important but fairly invisible presence, playing host at Embracing Shamanism retreats, thereby ensuring the many physical components of the programme flow without disruption. He occasionally offers percussion backup in the shamanic events. He has been a Buddhist for over twenty years but enjoys a fruitful coexistence with Shamanic ways and teachings.
Administration
Jacqueline Mainprize
Jacqueline Mainprize lives on the coast in the far north of Scotland on a croft, growing her own food. She has been a shamanic practitioner since 2016, has recently completed a shamanic teacher training course and is a member of OBOD, a Druid order. Her other interests are dowsing, land healing, herbalism, belly dancing and rune reading.
Course Facilities
We hold our courses in a variety of beautiful settings around the country.